S925 Acid Resistant Silicone Sealant
---
S925 is a special silicone sealant for industry applied, which curing from outside to inside by observing moisture from atmosphere. S925 possess higher elastic and strong adhesion, which is suitable t
S925 is a special silicone sealant for industry applied, which curing from outside to inside by observing moisture from atmosphere. S925 possess higher elastic and strong adhesion, which is suitable t
Specification:
300ml / hard, 590ml / soft
Regular color:
Black / Gray
Characteristic:
PH1 ~ 13 range apply
S925 Silicone Sealant
S925 is a special silicone sealant for industry applied, which curing from outside to inside by observing moisture from atmosphere. S925 possess higher elastic and strong adhesion, which is suitable to be used under water for sealing.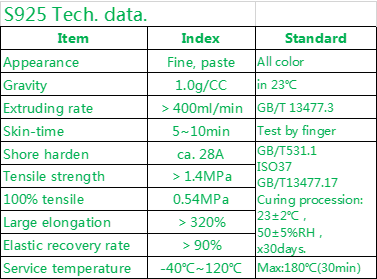 Special character:

Neutral curing with no corroding materials.

Acid-resistant and alkali-resistant (PH1——PH13).

Organochlorine-resistant (max: 500ppm). .

Temperature tolerance range: -40℃——120℃.
Purpose:
S925 is suitable for jointing the seams of enamel, glass, ceramic, PVC、FRP etc., and usually be applied on storage tank, water tank, water pipe, drain for sealing.
Using tips:
1.
The jointed surface need to be cleaned and keep drying, with no grease and glue. Do not applying the sealant when dewing on material surface.
2.
It is need to brush primer to seal the pores before spreading the sealant on the porous materials such as concrete, stone, brick etc.
3.
Because of there are difference in the applied materials and the difference of applying method, so, do the pre-test of bonding is necessary by your applying conditions to ensure your special purpose.
Applying notice:
● The curing speed is relate to the temperature and the humidity, and the curing finished time also relate to the thick of the sealant.
● when it need to take service by immersed in the solvent or industry oil for long-term, it is necessary to do some pre-tests to ensure its adhesion and no swelling.
● The facilities should not be used before the sealant finished curing, for there are no bonding yet.
Safe attention:
It is necessary to read the Material Safety Data Sheet for information about precautionary measures and safety recommendations prior to application. Any applying of this products should comply with local laws.
590 ml/sausage, 300 ml/cartridge
Storing direction:
Storing in cool and dry place with no direct-sun exposure, recommended storing temperature: 10℃——25℃ (≯40℃).
The Shelf-life: 12months in original packaging.
Important Notice: All statements, technical information and recommendations set forth herein are based on tests which we believe to be reliable. However, we do not guarantee their accuracy or completeness. The user should conduct its own tests of this product before use to determine proper preparation technique and suitability for proposed application. Any sales of this product shall be on terms and conditions set forth on LEDAR order acknowledgment. LEDAR warrants that the product conforms with the LEDAR written specifications, and is free from defects. We do not claim all other warranties, expressed or implied, including the warranties of merchantability and fitness for a particular purpose. The buyer's sole remedy for noncompliance with this warranty shall be for the replacement of the product or refund of the buyer's purchase price. In no case will LEDAR be liable for direct, consequential economic or other damages.
Keywords: Sealant | Polyurethane | Modified profiles
---
Copyright © 2022 Qingdao Ledar Chemical Co., Ltd. SEO